While waiting to pay for repairs at my local dealership this past week, I reflected on an experience last year when I was issued a citation for failure to display front license plate. The license plate was not displayed because my vehicle did not have a front license plate mount. I asked the young lady at the service window how much it would cost to have the service department install the front license plate mount on my vehicle. With parts and labor it would be $120.00.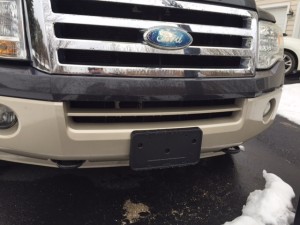 At that moment, a mechanic happened to be walking past me on his way into the service area. He leaned over and whispered some advice to me. He told me that I could purchase the license plate mount much cheaper directly from the parts department. He instructed me to bring the mount back to him after I purchased it so that he could install it for me. He explained that if the service department purchases the part from the parts department it would cost more money.
I saved $20.00 that day but what I learned was invaluable. As an uninformed customer, I always assumed the parts department and the service department were part of the same department. However, I learned that they operate independently of each other. Although they have some common interests, they have different objectives. One department was focused on inventory and supply by using inventory management software from a company like VinSolutions to make sure that they had all the parts that were needed, whereas the other was focused entirely on service.
Much like the parts and services departments of a typical car dealership, IT departments commonly have two objectives that are not usually aligned. First, IT departments need to facilitate solutions that meet company objectives. This includes choosing and managing IT assets such as hardware and software. Second, IT departments need to support their solutions along with the people that use them. ITAM provides direction for IT asset management while ITIL provides direction for IT service management (ITSM) solutions.
IT Service Management Databases are designed to provide information on configuration management and to provide information to help organizations make better business decisions. The software helps users identify dependencies throughout processes, people, applications, and IT infrastructure. Additionally, CMDB in ServiceNow enables users to identify opportunities for change, ensure faster resolution of incidents and fewer errors. Many organizations are beginning to understand the benefits that come from integrating ITAM solutions into ITSM solutions, but there is still much work to be done in this area.
In an article published by The ITAM Review, Martin Thompson wrote "…respondents were asked the level of integration between their ITAM and ITSM functions. 55% said it was a completely separate entity, 24% said it is was only partially integrated and 21% said that the two functions were fully integrated."
ITSM solutions can benefit by saving time and money when asset information is easily available to the analysts supporting their customers. To begin integrating ITAM, I suggest you start focusing on the following:
Incident Management
Configuration Management
Request Management
Lifecycle Management
Incident Management
As defined by ITILv3, an Incident can be defined as follows:
An unplanned interruption to an IT Service or a reduction in the Quality of an IT Service. Failure of a Configuration Item that has not yet impacted Service is also an Incident. For example, Failure of one disk from a mirror set.
When a customer calls to report an incident, there is usually a discovery interaction that is initiated by the analyst. For example, the analyst will probably need to know information about the computer along with the operating system and installed applications. The more information the analyst has about the device, the better the chances are for a quick resolution.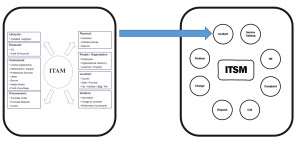 Collecting information over the phone by questioning the customer can be time consuming. It is also not as reliable because there is always a risk that the customer may not provide correct information. Incorrect information will add to the time it takes to resolve the incident.
In some cases, an analyst may determine that an issue is the result of hardware failure. Providing warranty information linked to the device vendor will help speed up the process of replacing the device.
Providing device information within your incidents can also help when reporting on historical data or when looking at metrics. For example, while running a report showing historical incident information for the past 18 months, you may notice a certain laptop model appears in more incidents compared to other laptop models. This type of information could help you make better decisions going forward.
Another benefit of having the asset information as part of the incident could be to provide the security posture of the device. Some of your software assets are security applications. It would be important for the analyst to know that a device has the proper security applications installed. Furthermore, it would be beneficial for the analyst to see that the device is properly patched. Without the device information, the analyst will have to rely on remote control tools which will only add time to the trouble-shooting process.
Configuration Management
As defined by ITILv3, Configuration Management can be defined as follows:
The Process responsible for maintaining information about Configuration Items required to deliver an IT Service, including their relationships. This information is managed throughout the Lifecycle of the CI. Configuration Management is part of an overall Service Asset and Configuration Management Process.
Creating relationships for a configuration item (CI) is important so that you know who will be affected if a device or service goes down. Asset management systems can link assets to other assets, services, applications, and users.
For example, a printer can be mapped to a server and a physical location. Users can also be mapped to a physical location. Location information may determine the printer and print server that users are assigned to use. If the printer or print server goes down, mappings will show who is affected by the service disruption.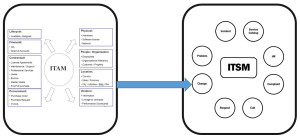 Asset mapping information gathered by the ITAM discovery tools should be automatically provided to the ITSM solution so that you can import or configure asset relationships. As a result, you will be able to show who will be affected when making a change to a CI.
Summary
It is always important to choose ITAM and ITSM solutions that are easily configured to integrate with other solutions. Include integration features offered by vendors as a part of your selection criteria. Solutions that provide connectors should be at the top of your list as you decide who to partner with in the future.
In Part 2, I will cover the following:
ITAM Integration with Request Management
ITSM Integration with Lifecycle Management
-follow me on Twitter @marcelshaw