When I was 10 years old, I had to walk half a mile to and from school every day with my two buddies. We often deviated from our path when returning home so we could cut through a small shopping center that consisted of a supermarket, a bank, and several small shops. I remember the bank more than anything because every Friday, there was a line of people waiting to deposit their paychecks. The line stretched out of the bank and down the sidewalk covering the length of three stores.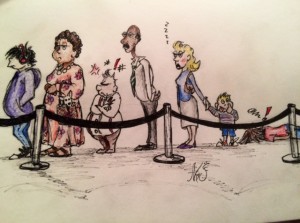 Waiting in a line for anything is not a pleasant experience, at least for most people. To solve the problem of long lines at the bank, somebody invented 'direct deposit' for paychecks while somebody else invented the ATM. I was amazed the first time I used a machine instead of a person to withdraw cash. Instant gratification is a feature that has no boundaries. In the world we live in today, people continue to invent methods to get faster results for their needs and desires. Just when you thought 'next-day delivery' was as good as it gets, someone figured out how to use drones to deliver your internet purchase within an hour.
Instant gratification is not only an expectation for consumers who wish to manage their bank accounts, make purchases, or watch movies online, it has also become an expectation for an organization's IT Service Desk. Today's IT customer is conditioned to expect instant answers to questions, problems, and desires.
It is no longer acceptable in the minds of most customers to be on hold listening to music that Shazam would not even be able to recognize. To meet the instant gratification challenge, IT support solutions need to build automated solutions to address their customer problems and requests.
I Can't Login…
One of the most common reasons a user contacts the IT help desk is because they cannot access the network or a network application. The reason? They forgot their password.
On a Forrester blog post by Stephen Mann, he states that "2%-28% of tickets relate to passwords – the average is 6%"
When users forget their passwords to their online personal accounts, such as their bank account, they simply click 'forgot password' and answer a series of questions that eventually provides a way to unlock their account without any human interaction. The security measures taken to unlock the account usually includes an email or text which provides a code before the user is allowed to reset the password.
If your IT Service Desk does not automate password reset, then it is time to look for a new solution.
Build Automation for Request Fulfillment
IT requests can be divided into three areas
IT asset requests
Account requests
Software requests
IT Asset Requests
Most of your IT users have purchased something online. The experience they want when requesting something like an external hard drive, a phone, or a new laptop is what I call the 'Amazon' experience. Users expect the request process to be just like an online purchase.
For example, if your organization supports certain models of the iPhone and Samsung, then you should display the model number with specs, a picture, and details regarding the expected delivery of the device. When possible, a method to 'expedite' the item should be made available.
Don't forget, the user should always be able to check the progress of any IT request. Provide updates to set expectations for delivery of the asset.
Account Requests
The IT Service Desk needs to have the ability to link account requests to the associated hardware request when necessary, so that the user doesn't end up with a phone and no service.
Account requests to company applications or databases should be instant. For example, someone in a management position may request temporary permission to an HR database. Automation for this request should verify the person meets the employment level required, then instantly grant temporary permission to the HR database.
Software Requests
We all know what happens when we purchase an app from our smartphone's application store. The application is immediately delivered to the phone.
Users request an app because they want to use it now, not later.
Automated application delivery needs to be instant, just like the user has come to expect. Unless an approval is required, IT Service Desk application requests need to contact the software delivery system and have that system immediately kick off the software distribution.
Automating the Approval Process
Automation for any request may need management approval. It is important that approvals can be done from any smartphone so that requests are not delayed. If an IT Service Desk requires the approver to login to a system versus approving something directly from email on their smartphone, then the automated process is not as 'remote' friendly as intended.
Summary
Today's IT Service Desk (ITSM) solutions need to provide 'instant gratification' which is expected from their customers. Processes for incident resolution and request fulfillment should be automated for quick incident resolutions and request fulfillment with minimal human interaction, much like an ATM fulfills customer banking requests without human interaction.
-follow me on Twitter @marcelshaw
Thanks to Nicole Shaw for the Graphic